At the beginning of 2001 in the city of Barcelona, Artplay Creatividad Visual arose as a business selling modular display stand for fairs and events. We offered what today we know as roll ups, photocalls, counters and other solutions that are known today, but at that time were only just beginning to enter our market.
We wanted to add beauty and functionality to a sector that was scarcely developed in Spain at that time, providing reusable, light and elegant solutions. We continued our evolution and also began to sell and assemble stands, with re-usage and sustainability as the focal point of our offer.
But the distribution and assembly of structures was not the path we wanted to take…
as we could not always thoroughly control the production processes or put in the loving care, effort and guarantees we wanted to offer our clients.
That is what led us to develop our own products and participate in the whole creation and innovation process. In this way, we decided to begin manufacturing our own range of solutions with aluminium profiles and tensed fabric for the display of advertising media.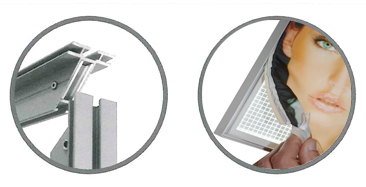 We became manufacturers, producing each order tailor-made and with the utmost care and quality we opened new markets as well as that of event organisation, such as temporary architecture, interior decoration and retail.
In 2009, the company relocated to Calonge (Girona), in the heart of the Costa Brava and expanded its facilities.
Artplay was consolidated as a manufacturer of high quality, reusable tailor-made products.
Large-scale projects of great complexity, as well as completely personalised mass productions, proudly leave our workshops from the hands of our dedicated team.
2016 saw the creation of the second company in the group: ImpressMe (which since 2021 is now known as Easyplay), specialising in large format textile printing and the distribution of easy to assemble, standardised systems.
We have recovered the essence of the beginnings of Artplay, as Easyplay provides reusable solutions to clients that they can assemble themselves.
Since then, we offer a comprehensive service to our clients incorporating machinery for sublimation textile printing and guaranteeing the best quality in printing and finishes.
Our long career in the sector, the consolidation of our personal way of doing things, combined with the tireless spirit of reinvention and desire to create products that are always beautiful, surprising and based on recycling mean that we are currently one of the reference points in our sector.
The real motivations of Artplay are, without doubt, an interest in a job well done and the satisfaction that clients continue believing in us for their projects year after year.

After 20 years of adventures, with many changes and some moments of uncertainty overcome, we can say that what really makes us grow is the desire to develop new ideas and trends and provide creative and sustainable solutions for our clients in the world of visual communication and interior decoration.
We shouldn't adapt to change but create it.
Jorge González Moore
We live in constant reinvention. We like to say we are chameleon-like. And although there is no doubt that our ability to adapt defines us, the pillar that has kept us strong, constant and enthusiastic is definitely our vocation for caring for our clients, team, collaborators and the environment. This commitment to care allows us to create, search and imagine solutions that did not exist yesterday but that we can offer today…
This curiosity has also led us to start a new project that combines the efforts of the group to create an environment and way of doing in our sector that it more sustainable and responsible.
This 2021 sees the birth of Artcycled: a collaborative platform that contributes to the recovery of materials and their transformation into objects of design through the hands of artists and people at risk of exclusion.
Welcome to the Artplay Group.
Discover our combination of elements and structures that allow infinite possibilities in design and construction.