Sustainable textile printing in large format

Select according to your needs:
Printing with recycled material and reuse of non-used fabrics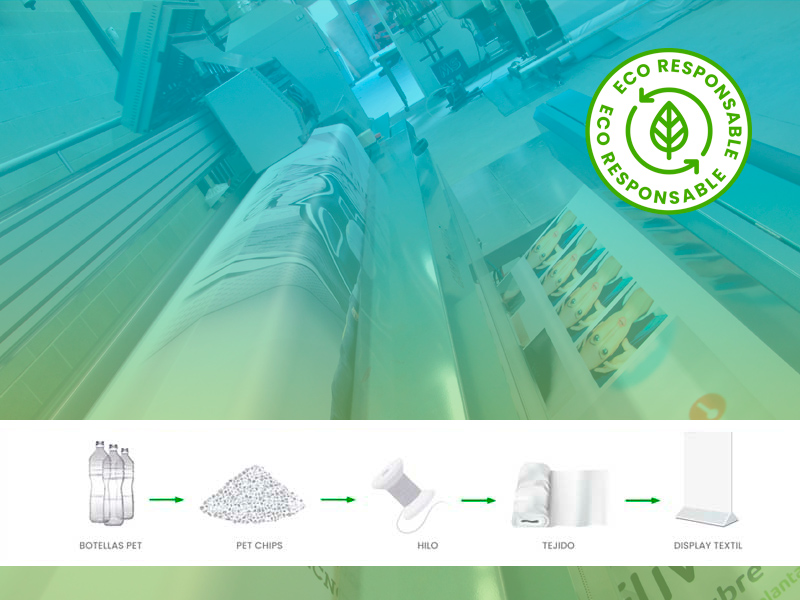 Our printing is made with polyester fabrics from the recycling of plastic bottles. The fabrics are 80-100% recycled origin and with the same qualities and definition that we have always worked. They are also recyclable so it allows them to be reused again and given a sustainable use with our environment.
This type of eco-friendly fabric printed in textile sublimation is equally resistant to water and breakage. They contain a special coating of fire retardant resin.
Además:
We recycle the leftover materials.
We use Greenguard-certified inks.
We manage chemical waste properly.
We work with recyclable and biodegradable packaging.
WE GIVE A SECOND LIFE TO FABRICS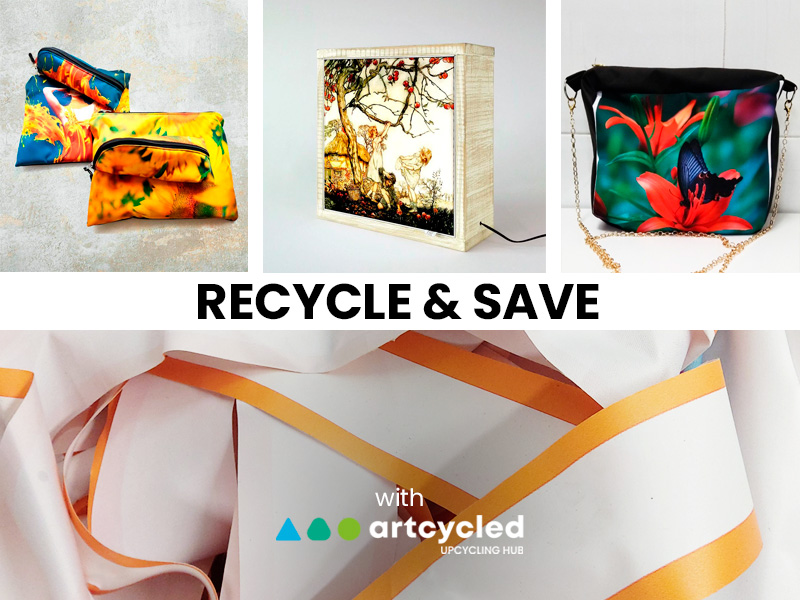 From the Artplay Group we have proposed to reuse our customers' fabrics and not end up in any container. In addition to producing with more sustainable materials, we have developed a project to recover disused fabrics. Customers can give us their old fabrics for recycling.
Send us your fabrics that you will no longer use and get a discount voucher for the next printing. We take care of the rest.
Through our collaborative project Artcycled, we manage the recycling of disused fabrics into objects with a second life to boost a circular economy and contribute to caring for the environment. Discover as in Artcycled.org
Large format textile printing using sublimation and UVILED
All textile printing is printed from Easyplay which is the other company of the group specializing in eco-responsible textile printing.
We specialize in large format textile printing with equipment that only prints fabric for decorative and advertising applications.
Sublimation printing chemically melts the ink with textile fibers and is the most suitable technique for achieving a high quality and durable finish.
We have numerically controlled cutting machines and automated sewing machines for high volume productions.
Following our group philosophy, we have replaced the standard polyester supports (so far only recyclable) with polyester fabrics between 80-80100% recycled, from the recycling of plastic bottles maintaining the quality of printing and without impact on sales prices. All these actions are a sign of our commitment to sustainability and care for the environment.
Fabric printing applications.
Discover all the application possibilities that textile printing offers.
Advertising lightboxes with LED backlighting as a structure, wall or ceiling to create backlit murals and window displays that stand out with their backlit fabric printing.
Textile printing in aluminium frames for wall or ceiling. Structures for point of sale, commercial or corporate decoration and on event and stand installations.
We have multiple options for decorating interiors that adapt to all designs, not just because of the versatility of the elements, but also because of the wide range of materials and finishes.
Large variety of personalised flags and displays designed for promotional actions and events. Models with stands and wall-mounted
Materials for printing.
Single use for each material.
Elástico y anti deshilachado.
100% reciclable.
Acabado satinado ligeramente translúcido.
Indicado para marcos situados en pared.
Más económico.
Opaque fabric, does not let light through. Black backing.
100% recycled thread and 100% recyclable.
Tear resistant fabric in intense colours.
Fire retardant, Euroclass certificate UNE-EN13501-1 B
Textile for backlighting.
80% recycled polyester and 100% recyclable.
xIdeal application for lightboxes.xx
Fire resistant.
Semi-transparent (double-sided effect).
Light and foldable.
Ideal for outdoor displays and flags.
Anti-wrinkles and anti-fraying.
What are the advantages of the Big size textile print?
The main advantages of the big size printing are multiple: the very high quality of finishes, that can be printed in large dimensions, the variability of materials that can be adaptable to each need (pop-ups, backlites, stands, retail, etc), they are easy to bring, they have a lot of durability, and also that the most are washable and reusable.
What are the appliances of printed fabrics?
The textiles printed in HD are very versatile and can be applied in displays, textile stands, photo calls, flags and any type of advertising holder.
Is it the new trend in Retail decoration and commercial equipment?
Yes, indeed, printed advertising on fabric is the latest trend in Retail advertising.
And that's since its warmth and quality, plus the ease assembly and bring, and its elegance. The printed fabrics for interior decoration systems have been placed in the 1st place for commercial equipment, as they suppose a wonderful material for events, stands or outlets. Currently we can see it in the stores of multitude of multinationals of status and are increasingly used in events and stands, for the reason that their color and the high quality image.

Complementary services.
We adapt to your project.
Manufacturing with perimeter silicon with an automated sewing machine.
Automatic cutting machine; high precision and great working capacity.
Other kinds of finishes: Velcro, hemmed with sleeve, eyelets.
Revision of graphics: checking of images received at no extra cost.
We test each of the fabrics with pre-frames to guarantee their setting.
Back-ups: each print has a recoverable document record.
Recovery service for old fabrics that are no longer used.
Possibility of collaboration with our upcycling project to give your fabrics a second life.