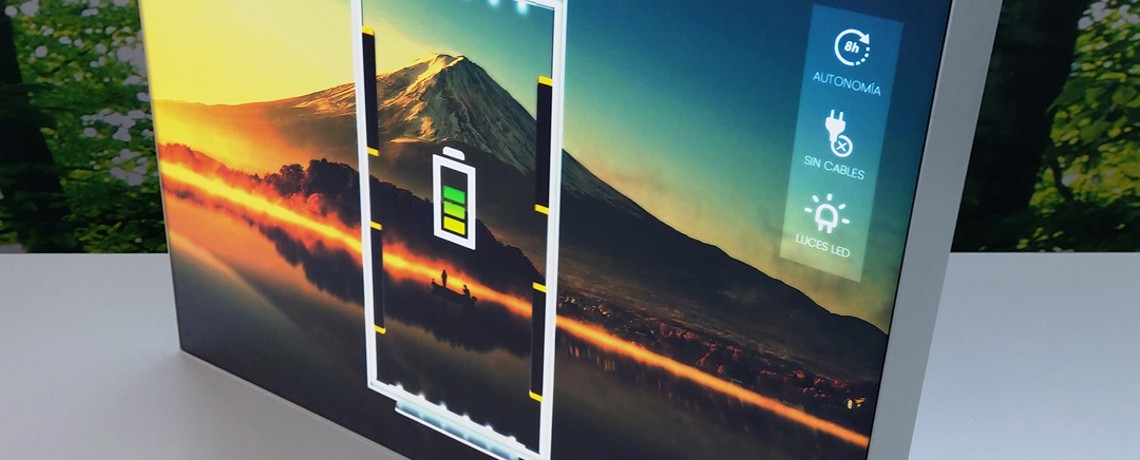 Light boxes with batteries --
For a few years we were looking for a solution so that our light boxes were more autonomous and did not depend on electricity. This would allow us to illuminate our light drawers in places where the electrical grid does not reach easily and especially in spaces or events outside.
That's why we launched the new Battery Ledbox light boxes that are powered by lithium batteries. Due to their design and configuration they are integrated into the interior of the box without altering or deforming the lighting of the light box.
Of course our batteries are rechargeable and have a range of 8h. until they are recharged again with a charging duration of a couple or three hours. In this way, the light boxes can be transported and placed in any space without any electrical wiring. Depending on the size of the light box, we configure batteries with greater capacity and autonomy to ensure the correct use and optimal lighting of our light boxes.
We are currently working with locally manufactured batteries guaranteeing the stock and repair and with 100% original cells and with our own security system.
For outdoor events, apart from the sealing of our batteries, we have solutions suitable for any type of atmospheric condition. We use watertight led curtains that protect the lighting against moisture and rain, as well as our printed fabrics with UVI Led technology that can also be wet.
Our Battery Ledbox light boxes can be made on one and two sides and from a box thickness of more than 7cm. In addition we can add feet, wheels or any accessory to improve your mobility.
Do not hesitate to contact us to discover our lithium batteries with an unbeatable quality-price ratio for our Ledtex range: https://www.artplay.es/lightboxes-ledtex/