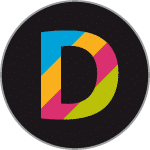 Make a bigger impact with the new generation Lightboxes.
Lightboxes with illuminated coloured halos.
We create the dynamism through a die-cut optical acrylic glass with RGB LEDs in one or several areas of the lightbox. We incorporate and integrate this kind of animation into an already existing lightbox.
It is the most economic option to liven up a box as we only have to create the light effects in the area we want to highlight or feature. It is applied to lightboxes over 7 cm thick and the RGB lighting is adjusted using a remote control or App.

Light effects and shapes, with movement and colour throughout the lightbox.
BeMotion proposes dynamising the whole surface of a lightbox using LED pixel technology panels. In this way we manage to liven up each of the graphics combining the high resolution textile printing with video LED animation. 
The possibilities are infinite creating halos of colour, movement effects and increasing and decreasing the light intensity.
Animation is changed by inserting a USB card in the back of the lightbox and loading the new program. It can also be controlled via WiFi or 4G. The same program can be loaded into as many lightboxes as you wish (ideal for multiple points of sale).
Different effects can be programmed in the same panel and used depending on each graphic or campaign. The whole range of RGB colours for one or two-sided boxes.
Example of a Stand where the different kinds of effects can be seen: